Software For
Automated Storage
Document Management System for Storage System
Document Management System – Flow
— Retrieval and storage of documents at a single click.
— Communication with the machineto automate the entire process of storage, search and retrieval of documents.
— Facility to define document indexing and tagging details.
— Functionality to have a soft copy or hard copy or both in the system.
— Feature to define various levels of storage in the master module so that new physical storage can be added and integrated with the system.
— Various reports on storage, retrieval including a complete log of file handling along with user name, time and multiple suchinstances.
— Easy search and sharingof documents.
— Role-based access to documents.
— Mobile based access provided to system.
— Definition and mapping of documents to departments and document types aides in easier search.
— Colour coding functionality to match with the physical packing of documents in cloth.
— Upload of multiple documents at a single time possible, making workfaster.
— Facility to view documents online, download documents, based on user-defined roles and controls.
— Optional interface with bar code based systems, CCTV systems and other client specific systems.
— Developed using open source technologies, in line and compliant with E-Governance norms, reducing licensing costs and issues.
— Can work in standalone or networked and web-based mode as well.
Advanced Inventory / Warehouse Management System for Storage System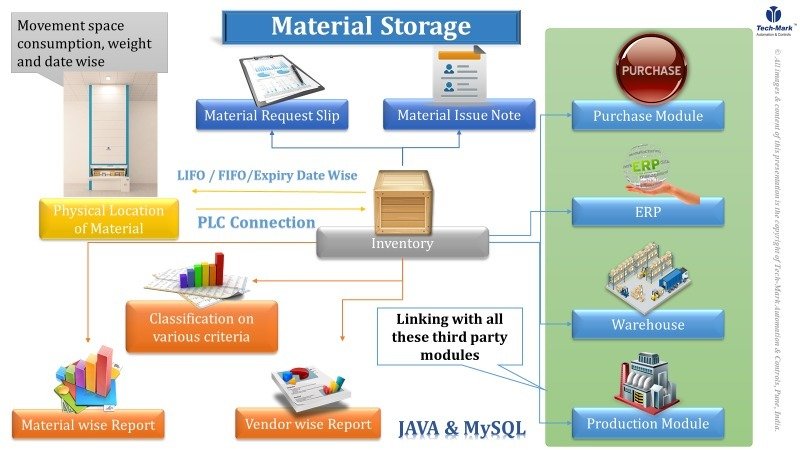 — Gives the user full control of the storage and retrieval process for material inventory through a single and simple browser based interface.
— Provision for tracking inventory from suppliers, for clients as well from production line.
— Track raw material, in-process and finished product inventory and storage.
— Generation of documents related to inward, movement and dispatch of inventory.
— Intelligence built in to guide the user to the correct available location for storage, based on product dimensions and available space.
— Triggers for various parameters such as dispatch date, expiry date and several others.
— Available API's, being open source and open architecture based system, to ensure ease of integration with various protocols and third party systems andDatabases.
— Facility to integrate with a bar code based or RFID based tagging application and other existing client applications.
— Uses web technologies, can be accessed over a network or the internet through any device.
— Category-wise and code wise or material name wise real time inventoryview.
— Customer wise, vendor wise and user wise inventory reports.
— Complete transaction log report of inventory storage and retrieval along with user details and time stamp.
— Location wise inventoryreport.
— Date wise check-in, check-out view of inventory.
— Report on shelf life or expiry of materials.
— Cost of inventory report.
—  Re-order level-wise inventory report.
—  Planned dispatch report.
— Customer/consumer wise report mapping materials to destinations and date of delivery or dispatch.
— All reports will be in listing as well as dashboard /graphical formats wherever required with further drill down facility.